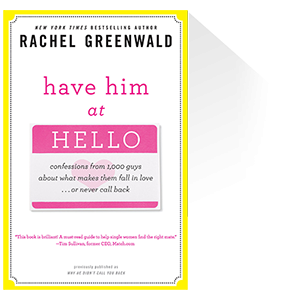 Have Him at Hello
Confessions from 1,000 GUYS About What Makes Them Fall in Love…
Or Never Call Back *
By Rachel Greenwald
(Three Rivers Press/Random House)
* This is the paperback edition of "Why He Didn't Call You Back" (same book but a new title)
There's a reason the media has dubbed matchmaker Rachel Greenwald as "The Wife Maker."  Yes, she's responsible for over 820 marriages, but more importantly, she has solved perhaps the biggest dating mystery of all time: when you finally meet Mr. Right (or even Mr. Potential), what really compels him to call back (or not) after a date?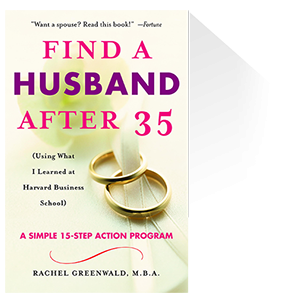 Find a Husband After 35
Using What I Learned at Harvard Business School
By Rachel Greenwald
(Ballantine Books/Random House)
Find A Husband After 35 is a New York Times Bestseller. This book teaches a proven 15-step program to find a your mate. It's an innovative approach to the frustrating reality of being single at any age, from your 30's to your 70's and beyond. It's all about taking action and moving forward, not analyzing why you're still single, who's to blame, and why society is the way it is.
Book Groups
Rachel will phone in to your book group at no cost! Simply invite her and she'll call to answer your dating questions. (Please have a minimum of 10 people at your book group meeting when she calls.)
Rachel is also available to speak in person for private groups, conferences, and panel discussions.
If you would like to invite Rachel to speak in person or call in to your book group, please send her a question on the Contact page of this website.